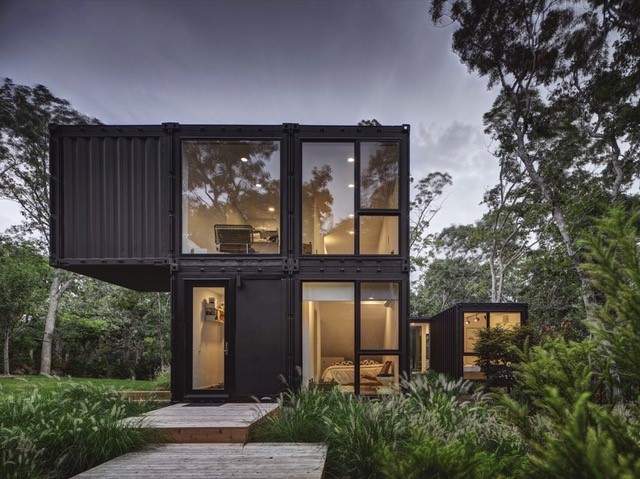 Description
IC1012 New Prefab Models Eco Friendly Self Sufficient
Prefabricated
-
These industrial model homes start with prices from € 35000 each, you can choose from different designs and styles.
License permission is needed.
Prefabricated houses or industrial models are the sizes of 2 containers constructed together, Total of 60m2 or in this case 6 containers 180m2.
Can be placed in the garden and/or as extra guest house, separate and/or for a weekend house or economic living lifestyles.
GENERAL CHARACTERISTICS Self-supporting independent structural module. The interior free height of the rooms will be 2600 mm. The facilities are complete and it´s distribution is reflected in the plans. The total exterior dimensions are 12.00m x 2.50m.
FOUNDATION Existing
METAL STRUCTURE Original maritime container structure.
FINISHING FLOORS Wooden floor, parquet or floating floor. Maybe other upon client decision.
COVER CLOSURE Flat metal cover.
PERIMETER CLOSURE Metal sidewalls of the maritime container.
INTERIOR FINISHES White Plasterboard or similar.
INTERIOR DIVISIONS White plasterboard or similar.
FALSE CEILINGS Plasterboard, Air chamber and thermal / rock wool acoustic insulation.
FACADE/OUTSIDE CARPENTRY At customer's choise.
INTERIOR CARPENTRY At customer's choise.
ELECTRICAL INSTALLATION Complete chord plans by common agreement.
PLUMBING INSTALLATION Complete chord plans by common agreement.
AIRCONDITIONING SYSTEM Includes hot/cold airconditioning.
SOLAR ENENGIE INSTALLATION Budget seperately if requested.
DEADLINES 12 weeks from the signing of the contract and payment of the advance.
PAYMENT METHOD Advance 50% and at finish 30%, Balance upon delivery and final assembly 20%.
Property Features
Prefabricated
Air Conditioning
Floor Area is 180 m²
Aircon in bedrooms
Kitchen fully equiped
Open terrace(s)
Lovely garden
Beautiful views
Air conditioning hot/cold
Contact us about this property